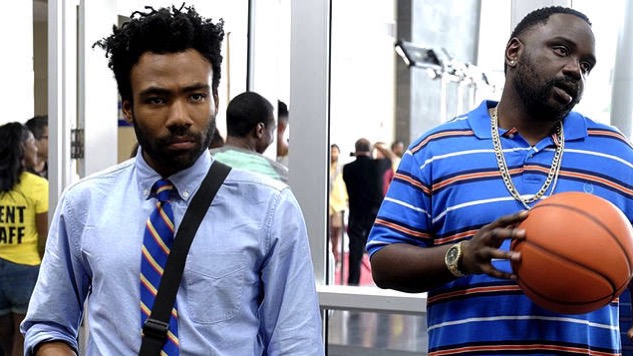 "Nobody Beats the Biebs" was the name of the hilarious fifth episode of Atlanta shown this week. Coming off of a somewhat lackluster showing last week, episode five dives back into the action and brings the humor out, full throttle. While we're given a break from seeing Earn's penny pinching shenanigans, we are given a closer look at another side of him--the savvy finnesser he's claimed to be from the beginning. On Paper Boi's end, we're able to see in greater detail what the public perception of him in comparison to other artists truly is, as well as his response to the assessment. Donald has a minimal role in this episode, but his scenes do a nice job of continuing the social commentary on significant issues in America, specifically gun violence.
The episode kicks off for us with Earn and Paper Boi entering a celebrity basketball game, where Earn is tasked with being a real manager and promoting his artist. Although he still knows pretty much nothing about the job, he's fast on his feet and a quick learner, and viewers get a look at his resourcefulness in quick-response situations. By some odd stroke of luck, he runs into a talent agent who mistakes him for "Alonzo", a man she once worked with in the past. As he entertains the conversation, he realizes just how powerful of a woman she is, and is soon led to a VIP room where he's brushing shoulders with some very important players. Before he can enter, he is stopped by a security guard looking for his badge, and we all learn a valuable lesson in the importance of "faking it 'til you make it". Every true player in whatever profession it may be has been in situations like this, where they've had to finesse their way into someplace they didn't belong. This moment is an important key for anyone trying to make it in the entertainment industry, as it shows that oftentimes confidence can make all the difference between you being accepted or overlooked. Although the same lady that gets him in ends up turning on him out of confusion, Earn is able to gain some important contacts that will hopefully push him and Paper Boi's careers forward.
Paper Boi continues to get schooled on the game of success, this time learning a painful lesson on public perception and branding. While he would like to think of himself as a nice guy, the general public only views him as a gangster who "shot somebody". While this is his rapper persona, he dislikes the residual effects that it causes during his day to day interactions. This assessment is juxtaposed by a hilarious new character, "Justin Bieber". While the actor playing the role is a black male, his persona and music mirrors that of the real Justin Bieber. Clearly spoofing real-life, we're seen how Bieber can do all sorts of horrible things and hide behind his child-like, pretty boy image, Paper Boi can do no right as he is a slave to the "gangsta rapper" identity. This culminates in an altercation during the game, where both stars become fed up with one another. Paper Boi also learns a valuable lesson from a reporter after the fight at a press conference, when she states that he needs to learn how to "play his role". Rather than fighting the image he portrays, he needs to embrace it to reach greater success.
Spending his day at the gun range, Donald has quite an experience of his own as well. Being his usual quirky self, he decides to set up posters of dogs as target practice, instead of the traditional human posters. While he sees no problem with this, all of the other shooters take issue, and an argument ensues. The debate raises an interesting question about the ethics of gun use, and America's bad habit of picking and choosing whose lives we value. There's endless outrage over animal rights and privileges, meanwhile certain ethnicities and social classes are dehumanized on a constant basis. He ends up being thrown out of the shop, but Donald's role as a representative of both psychological and social growth is further proven.
This episode does a significantly better job of combining both humor and key plot points into the storyline, giving us a lot to look forward to next episode. We are left anticipating whether or not Earn we find any more success in the management game, and if Paper Boi will somehow gain a grip on his ego. We're halfway through season one, and we must say, this show has lived up to its hype through and through.