Don't miss out —

download the A3C app

to create your own schedule. Here's a glimpse of what we have on tap today:
Creator Complex
10:00 AM - 10:00 PM
Location: Georgia State University's Creative Media industries Institute
The Creator Complex is a revolutionary facility for artists & producers. The Creator Complex will connect artists and producers with creative professionals to create valuable digital assets... for free! Artists will be able to get a headshot, master music, make beats, collaborate with producers, record music, write a bio, develop a website, design a logo and record a podcast. You don't want to miss this.Must have an A3C Pass, Conference Pass, or Executive Pass to get in.
Women in Charge
12:00 PM - 1:15 PM
Location: Loudermilk Center, Toyota Music Ballroom
This panel hosts some of hip-hop's most innovative, creative and entrepreneurial women.
Fadia Kader

(Instagram),

Nicole Plantin

(Rostrum Records),

Jennifer Drake

(Sony/ATV),

Karen Civil

(Entrepreneur),

Angela Yee

(Radio/TV Personality) &

Janee Bolden

(Bossip).
The conversation will touch on issues effecting women in hip-hop as well as entrepreneurship and innovation in the music industry.
Super Producers: Driving the Sound of Hip-Hop
2:00 PM - 3:15 PM
Location: Loudermilk Center, Toyota Music Ballroom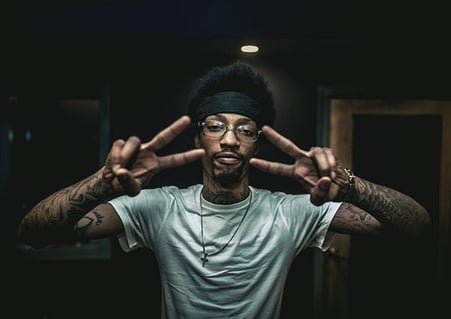 Sonny Digital, FKi 1st, Honorable C.N.O.T.E and Bangladesh sit down with legendary producer, Bryan-Michael Cox. These super producers are driving the sound of hip-hop and have been responsible for creating the music many associate with Atlanta's sound. Also, learn what you need to know about publishing & licensing and how to become a successful music producer in today's music industry.
A Conversation with DJ Drama & Don Cannon
4:00 PM - 5:00 PM
Location: Loudermilk Center, Toyota Music Ballroom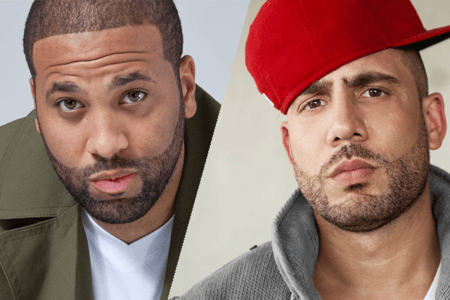 From mixtapes kings to music executives. DJ Drama and Don Cannon exemplify the hip-hop story. They started hustling tapes to become two of the most influential executives in hip-hop. Today they work with some of hip-hop's most promising artists, Lil Uzi Vert and Playboi Carti.
Hip-hop journalists, Maurice Garland and Branden Peters of Day 1 Radio, host an intimate conversation discussing their process for finding and developing artists, the state of the music industry and advice for young artists and executives.
A Conversation with A-Trak: 10 Years of Fools Gold Records
6:00 PM - 7:00 PM
Location: Loudermilk Center, Toyota Music Ballroom
An intimate conversation with A-Trak about creativity, innovation, artist development and the record labels role in today's music industry.
Fool's Gold is celebrating its 10th anniversary this year. Founded in 2007 by A-Trak and Nick Catchdubs, Fools Gold has established itself with releases bridging the worlds of all music genres together to the world while being dubbed an "indie innovator" by Billboard and a "tastemaker" label by the New York Times, and "one of the most influential indies in the music business" by Pitchfork.
A3C Action Pitch Competition
7:00 PM - 8:30 PM
Location: Auburn Ave Research Library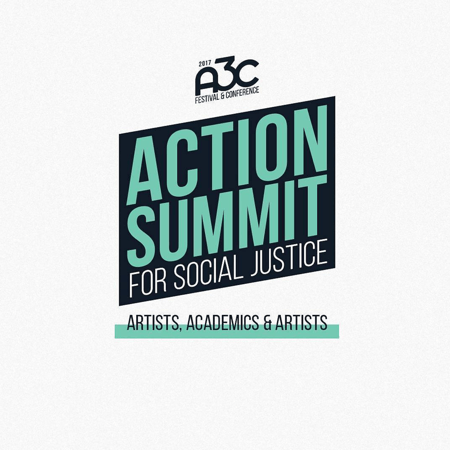 The A3C Action Pitch Competition

is a national competition looking to find, support, and invest in new, innovative ideas that use art, music and hip-hop culture as a vehicle to advance social justice and civic engagement.

Judges include: Liz Havistad

(Hip Hop Caucus' CEO),

Dallas Austin

(Grammy-award winning producer & CEO of Rowdy Digital Media),

Nora Rahimian

(#CultureFix Co-founder and Lead Strategist),

No Malice

(Hip Hop Artist and Founder of REinvision) and

Tene Traylor

(Fund Advisor The Kendeda Fund).

Action Finalists include:
Make Music Count | Atlanta, GA
Girls Cut Films Too | Atlanta, GA
Real Life Poets | Birmingham, AL
Breaking The Chains | New York City, NY
Media Rhythm Institute (MRI) | Baltimore, MD
These sessions are accessible with an Executive, A3C or Conference pass.
Don't miss these shows tonight!
Trappin for the 99 & 2000s - ACID Afterparty
11:30 PM - 2:15 AM
Location:
ACID Cigars Stage @ Aisle 5
Squarespace Discovery Stage: Friday Edition
8:00 PM - 1:30 AM
Location:
Squarespace Discovery Stage @ Mammal Gallery (Upstairs)
Door Price: FREE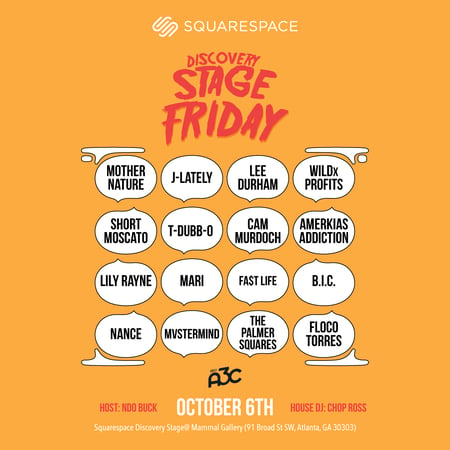 #RaiseTheBar
9:00 PM - 12:00 AM